Survival pack backpack filled - including food, sleeping, first aid -
Normal price
€279,99 EUR
selling price
€199,99 EUR
basic price
pro
Sale
Sold out
Save €25 when you buy 2 emergency backpacks with the code "Double".
Are you prepared?
Crises are getting closer. How prepared are you when it comes to self-care and protection?
The emergency backpack®
Simple.
Sure.
Survive.
Leave nothing to chance and decide to be properly prepared in crisis situations. But that requires extensive planning.
The emergency backpack is indispensable for
crisis preparedness.
We have already taken care of your concerns and are happy to support you in finding the right provision for your needs. The four most important pillars of survival are packed in our backpack.
Emergency backpack

Basic

:
Due to the current delivery difficulties, colors and content may vary slightly, but the basic function and category will remain the same.
Content 1 Survival Pack:
65l military backpack with many pockets
Survival jackknife

Dimensions folded: 3x8.8cm

unfolded: 3x15cm - legal to carry
Fire Steel

- ignite up to 20,000 times
Flashlight

- 1500 lumens with different light modes
Paracord Survival Bracelet

Size adjustable from 20.5 cm to 24 cm
Wire saw

Made of 304 stainless steel

Total length: 70 cm
small LED light

for simple lighting - 2 light modes
Tactical pen with glass breaker
Metal Multifunction Tactical Card

Includes (can opener, knife edge, screwdriver, ruler, bottle opener, 4 wrenches for different sizes of nuts and bolt heads, saw blade, direction indicator, tools, key ring hole)
Size of waterproof survival pack 19 x 12.5 x 5cm
Weight: 450g
Content 2 overnight package:
Sleeping bag

Emergency sleeping bag for up to -10

°C

Waterproof, compact
Length: 2.10m
90% isolation effect
Emergency tent

Closed on three sides, 2.4m tall and ultra-light (200g)

Cold-insulating suitable for 2 people
Paracord

over 4 meters for stretching tents and much more.
Content 3 Food & Water Pack:
5 meals

Contains

2kg of canned food

High in calories

Very durable and tasty


Content 4 cooking set:
Knife, spoon, fork made of stainless steel


Content 5 First Aid Pack:
1 patch 6cm x 0.5cm

1 pair of scissors
10 plaster strips 7.2 x 1.9 cm
2 compresses
5 children's plasters
2 gauze bandages
6 safety pins
1 pair of tweezers
1 triangular cloth
1 Fixation Plaster
1 finger plaster
First aid package dimensions: 11x7x5cm
Weight: 99 grams


Contents emergency backpack:

Compact
Bundeswehr pocket knife
Fixed Blade
Corkscrew
Reamer
Wood saw
File
Cap lifter with small screwdriver
engraved 'federal eagle' on the handle
Color: Black
Blade length: 7.5 cm
Length folded: 11 cm
Blade steel: 3CR13 steel
Corkscrew: 2CR13 steel
Handle: ABS plastic
Shell: 100% polyurethane
compass clock
The best outdoor watch compass It has an easy-to-read display with a 360° division and is easily attached to a watch strap.
color: black
Width: 2.2cm
3 glowsticks

This glow stick has a burn time of 8-12 hours. You can get it in the colors white, orange, yellow, red, blue or green. Please select!


Dimensions: 15 x 1.5 cm
Lighter
very durable: up to 3000 ignitions
Contents First Aid Pack
emergency blanket
Converts into a tent, a sleeping bag and much more.
Retains up to 90% of body heat
consists of insulating polyethylene film
Dimensions:

140 x 200 cm
Pack size: 7 x 11 x 1 cm
Weight: 42g
plaster box
Clinically tested patches and easy to use
Latex Free
Quantity 20 pieces
Contents Water Pack:
Canteen
The US canteen made of robust, hard-wearing and tasteless plastic. It has a screw cap that is secured to the neck of the bottle with an elastic plastic strap.
Color:

Olive

Dimensions: approx. 12 x 21 x 7 cm (W x H x D)

Volume: approx. 1 l

Weight: approx. 110 g

Material: 100% polyethylene (PVC), BPA-free
Our emergency backpack is a resilient and robust backpack that also offers a lot of space.
Our emergency backpack can become a lifesaver in all kinds of situations.
If you've often thought about getting an emergency or escape backpack, you've come to the right place.




The luggage protects you in an emergency and prepares you fully.




The backpack does not contain any unnecessary products that would make the luggage unnecessarily heavy.
.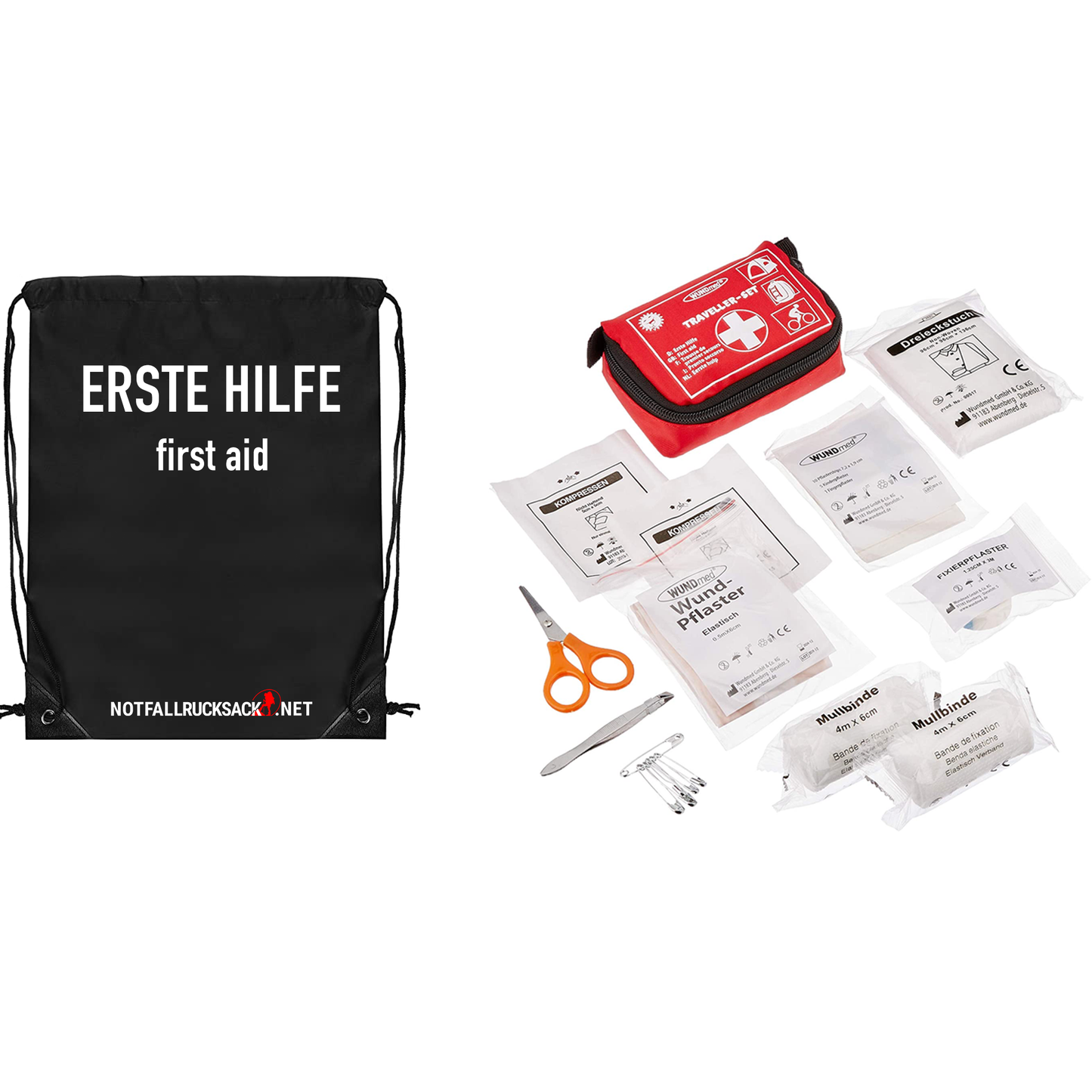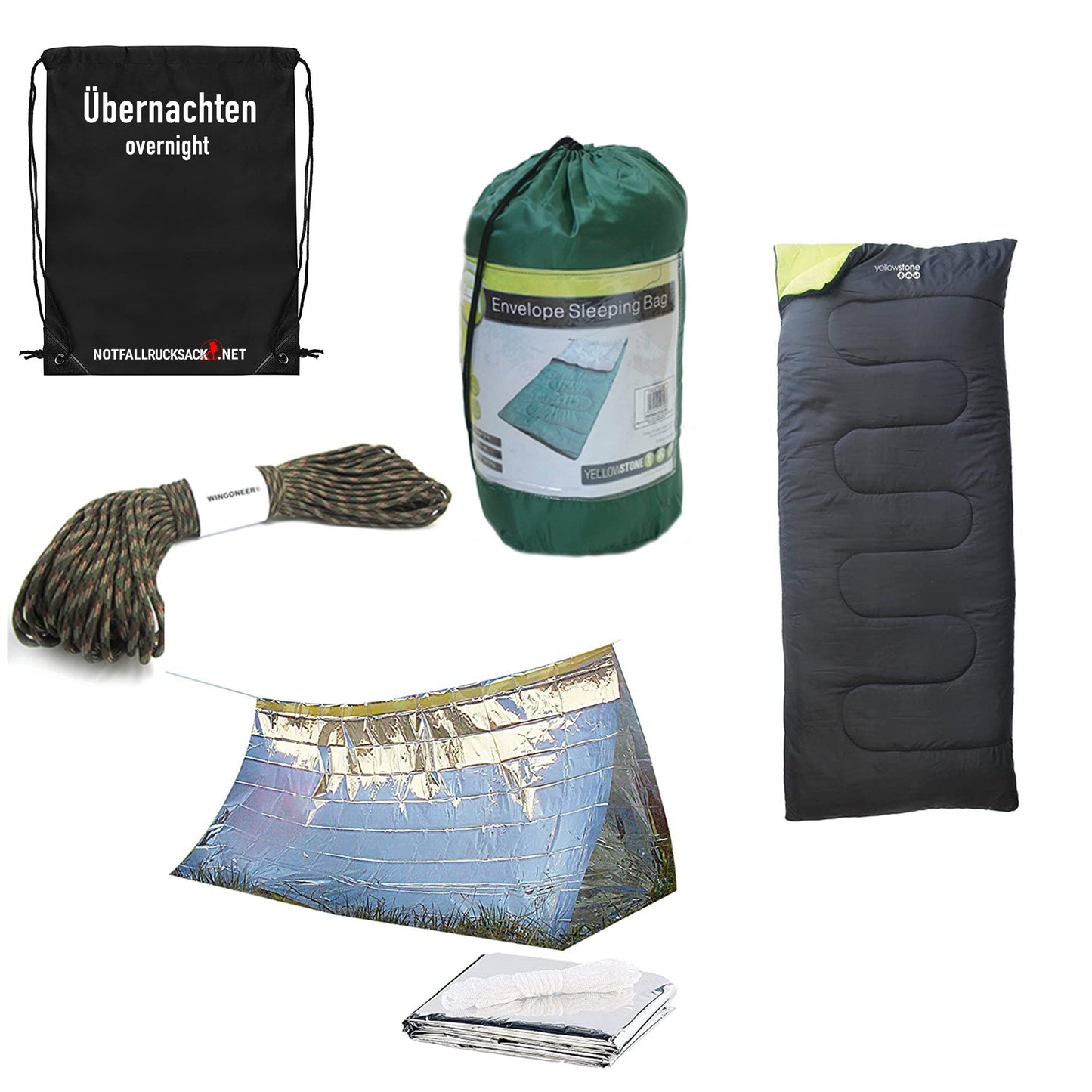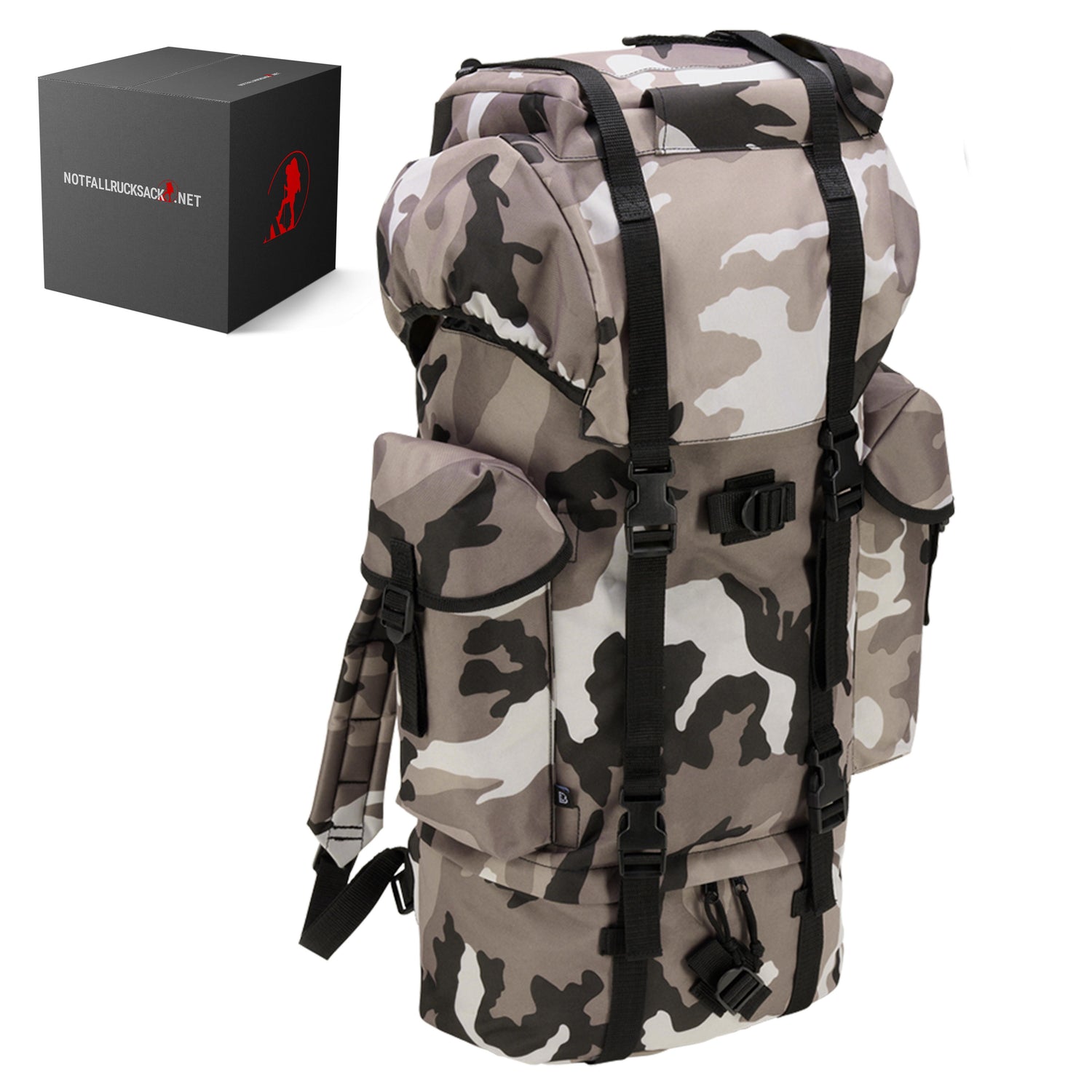 Who are we?
We are Max and Dustin,
we have been enthusiastic outdoor/survival lovers for several years. We regularly go out into nature to put our survival skills to the test, test new products and learn new things.

If you want to know how we came to our heart project, read on here... About us
Stay safe and take care of yourselves!
Max and Dustin from Notrucksack.net
Continue reading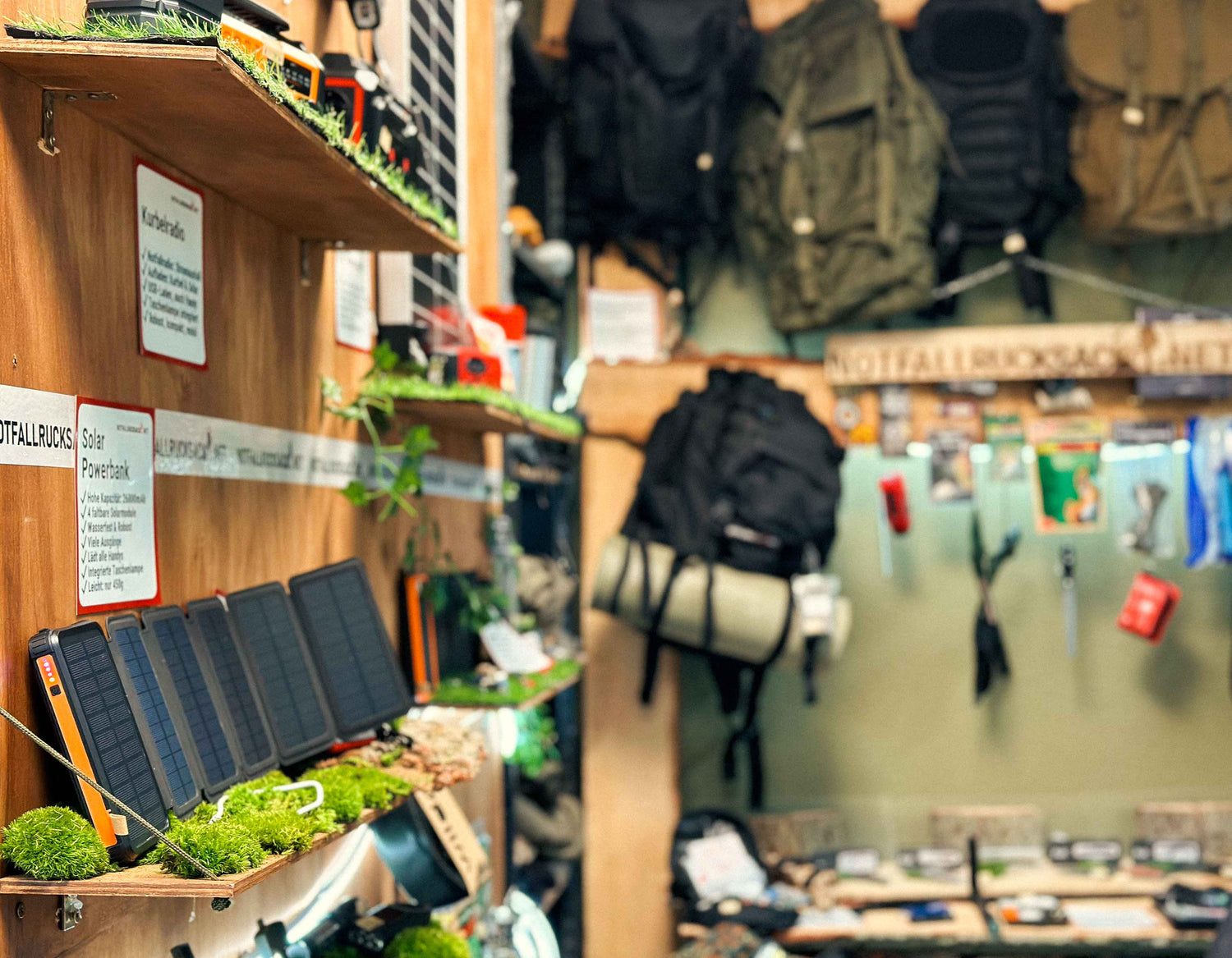 Unser Laden
Ein Traum erfüllt: Unser Outdoor-Laden in Neuruppin öffnet seine Türen! Besucht uns in der Puschkinstraße 18 und entdeckt unsere Produktauswahl. Erlebt die Leidenschaft hinter Notfallrucksack.net. Wir freuen uns auf euch!
Mehr zum Laden
If you don't take precautions, you will have worries later.
Crises such as floods, storms or even war are getting closer and proper and timely preparation is essential for your own well-being. Most important to survival in these situations are food, water, shelter, and fire. Our emergency backpack focuses precisely on these important survival points. Thanks to our many years of experience in the outdoor world, we have collected the perfect content and packed it into the emergency backpack, with which everyone can safely and easily ensure their well-being in any situation. The only thing missing now are your personal items and clothes to be properly prepared.
FAQ
Why emergency backpack?

Why should you get an emergency backpack? It serves to protect and provide for possible events/disasters. If you want to risk being unequipped in the event of a disaster, you may be taking a big risk.

What does the emergency backpack contain?

Basically everything you need to survive, of course everyone has something else that they need individually. Everyone has to pack that for themselves...but we already cover a large part of all needs with the backpack.


What do you recommend in addition to the backpack?

It contains the most important things. Customers are happy to buy the waterproof document pouch as well ... because documents such as birth certificates, marriage certificates, important passwords, medical documents, extracts from the land register / sales contracts, family photos, certificates... are simply important documents that you have in such a situation could use at some point.


What are the shipping times in the current situation?

We are doing our best to cover the huge volume of orders. Unfortunately, we sometimes have delivery problems, but as a rule we always manage a delivery in about 2 weeks, in rare cases even 3 - depending on how you have configured your backpack.


If you decide to make a selection, the page will be completely updated.